We would like to take this opportunity to thank you for your participation in the 7th Annual Aztec For Life Homecoming Celebration. Net proceeds from this event reached beyond $110,000 – a very successful result! Funds will be distributed to programs and non-profit organizations in San Diego County that help build brighter futures for today's youth. In seven years, Aztec For Life has allowed the Marshall Faulk Foundation to donate over $460,000 to many deserving causes, including Aztec Club scholarships, Boys to Men mentoring programs, and Jackie Robinson Family YMCA youth development programs.
We'd like to extend a special thanks to the SDSU alumni and athletes who were able to attend, and the twelve amazing restaurants that provided a taste of their best for us. We are also grateful to our sponsors for contributing to and underwriting so many aspects of this event. We couldn't do it without you! We also invite you to visit www.marshallfaulk.com , Facebook.com/MarshallFaulkFanPage or Twitter @marshallfaulk for more information about the work we do.
Thank you again for supporting our mission to assist programs that improve the quality of life and increase opportunities for inner city and under privileged youth in the greater San Diego community and beyond.
Making Moves,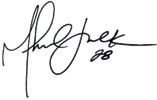 Marshall Faulk

Brandi Greenleaf
Executive Director