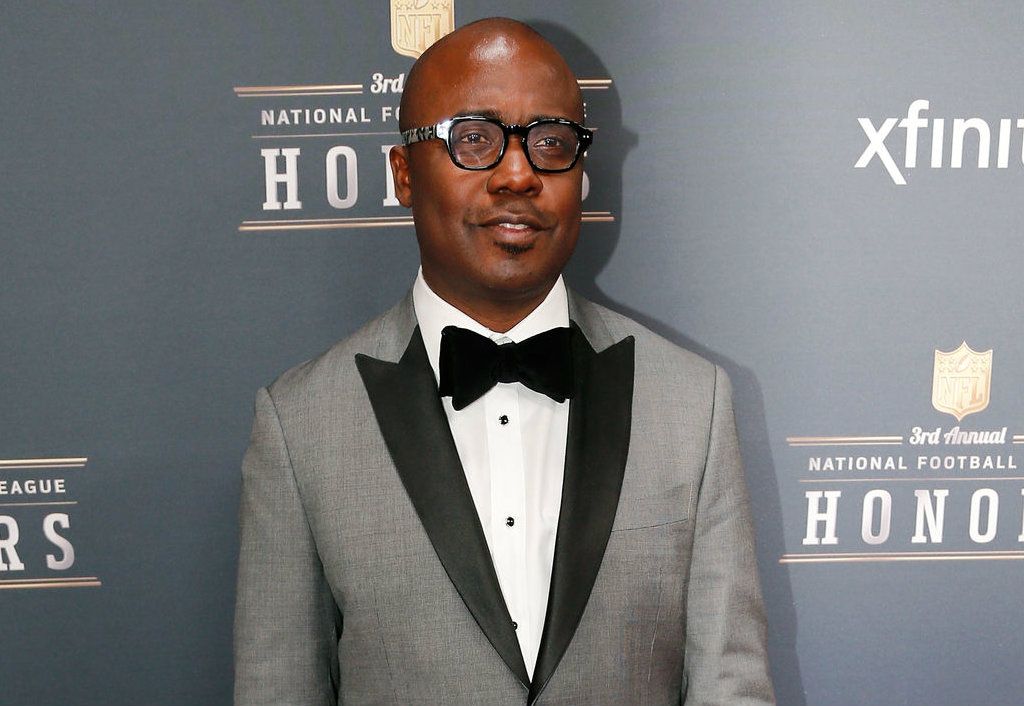 Faulk, Holt & Siciliano Return to Rams Preseason Broadcasts
POSTED BY: MARSHALL FAULK in NEWS
Former Rams Pro Bowler Torry Holt, Hall of Famer Marshall Faulk and veteran sportscaster Andrew Siciliano will once again lead the television broadcast team for the Rams' four preseason contests, the team announced today.

Holt and Faulk will serve as color commentators for the broadcasts, and the two will be joined by Siciliano, who will handle play-by-play duties. Faulk and Siciliano team up for a fourth-consecutive year, while Holt returns to the crew for a second-consecutive season. StLouisRams.com reporter Casey Phillips and St. Louis sportscaster Martin Kilcoyne will serve as sideline reporters on the telecasts.

"We're pleased Rams fans once again will get to enjoy Marshall, Torry and Andrew providing insight and analysis for our preseason games," Rams Chief Operating Officer Kevin Demoff said. "The broadcast will weave together game action, roster analysis and special features that will give fans great looks inside our organization as we prepare for the 2014 regular season. We're excited for the addition of Casey Phillips to our preseason team and believe she will bring all fans closer to our players and their stories."

For the sixth-consecutive year, KTVI-TV Fox 2 St. Louis will serve as the flagship station of the Rams' preseason broadcasts. KTVI will air all four of the Rams' preseason contests, which includes home games against the New Orleans Saints (Aug. 8) and Green Bay Packers (Aug. 16) as well as road contests at Cleveland (Aug. 23) and Miami (Aug. 28). In addition, the NFL Network will simulcast the Aug. 16 game versus Green Bay. All four of the Rams' preseason contests will be available in high-definition. After each preseason game, KPLR 11 will re-air the broadcast on Sunday afternoon from 2 to 5 p.m. in St. Louis.

"We are thrilled to continue a great association with the St. Louis Rams," said Spencer Koch, President and General Manager for Fox 2 and KPLR 11. "As always, 'The Home of the Rams' will continue to provide the best coverage for the fans."

In addition, the Rams Broadcast Network will air the team's preseason contests on 10 affiliate stations whose signal covers six states. Fans in parts of Missouri, Illinois, Oklahoma, Kansas, Kentucky, and Tennessee will have access to Rams preseason games this season.

In 2011, Faulk became the first Ram who played the majority of his career in St. Louis to be inducted into the Pro Football Hall of Fame. He was the NFL's Most Valuable Player in 2000 and won the league's Offensive Player of the Year award in three consecutive seasons (1999-2001). Faulk was voted to seven Pro Bowls, was a first-team All-Pro three times and a three-time winner of the Daniel F. Reeves Memorial award, which is annually presented to the Rams' team MVP. Since the conclusion of his playing career, Faulk has worked as a studio and game analyst for the NFL Network.

Siciliano serves as the host of "The Red Zone Channel," a supplement to DirectTV's NFL Sunday Ticket which cuts to NFL games to highlight key plays and moments. He also co-hosts "Total Access" on the NFL Network, a daily show that highlights news across the NFL. Siciliano has previously worked as the play-by-play voice for both the Las Vegas Gladiators and the Los Angeles Avengers of the Arena Football League, and Siciliano has hosted radio shows in Chicago and Los Angeles as well as national shows for Fox Sports Radio. In 1999, he hosted the pregame radio show on the Chicago Bears' radio network.

Holt concluded his career ranked 10th in NFL history in receiving yards (13,382) and 13th in receptions (920). As a Ram, Holt caught 869 passes for 12,660 yards and 74 touchdowns. All three of those totals rank second in team history, trailing only Holt's mentor and good friend Isaac Bruce. Holt was named to the Pro Bowl seven times and enjoyed a string of an NFL-record six-consecutive seasons with at least 1,300 yards. Holt surpassed the 11,000-yard mark in just 131 games, making him the fastest player in NFL history to reach the milestone.

Phillips joined the Rams in June after spending the previous two years with the Monumental Network in Washington, D.C. Phillips served as a sideline reporter for Washington Wizards and Mystics games and covered Washington sports for Monumental. She holds both a bachelor's and master's degree from the University of Missouri.

Kilcoyne is a six-time Emmy-Award winner (2006, 2008 Top Sportscaster in the Mid-America Region). The St. Louis native has been with KTVI-TV since 1997, and has been Sports Director since 2001. He also hosts a daily talk show on KTRS 550 AM in St. Louis.

The preseason contests are being broadcast in conjunction with Altitude Sports & Entertainment. The Denver-based company is the official television network of the Denver Nuggets and the Colorado Avalanche. In addition, through its partnership with ESPN Syndication and its own broadcast agreements with select conferences, Altitude airs Big 12, Big East, Big Sky, RMAC and WAC basketball, and Big Sky, Big East, WAC, and RMAC football games. Altitude carries local high school football games and regional college basketball games as well as minor league hockey, snow/extreme, and outdoor sports programming.
Source:
StLouisRams.com